DTSF Ambassadors keep downtown clean and safe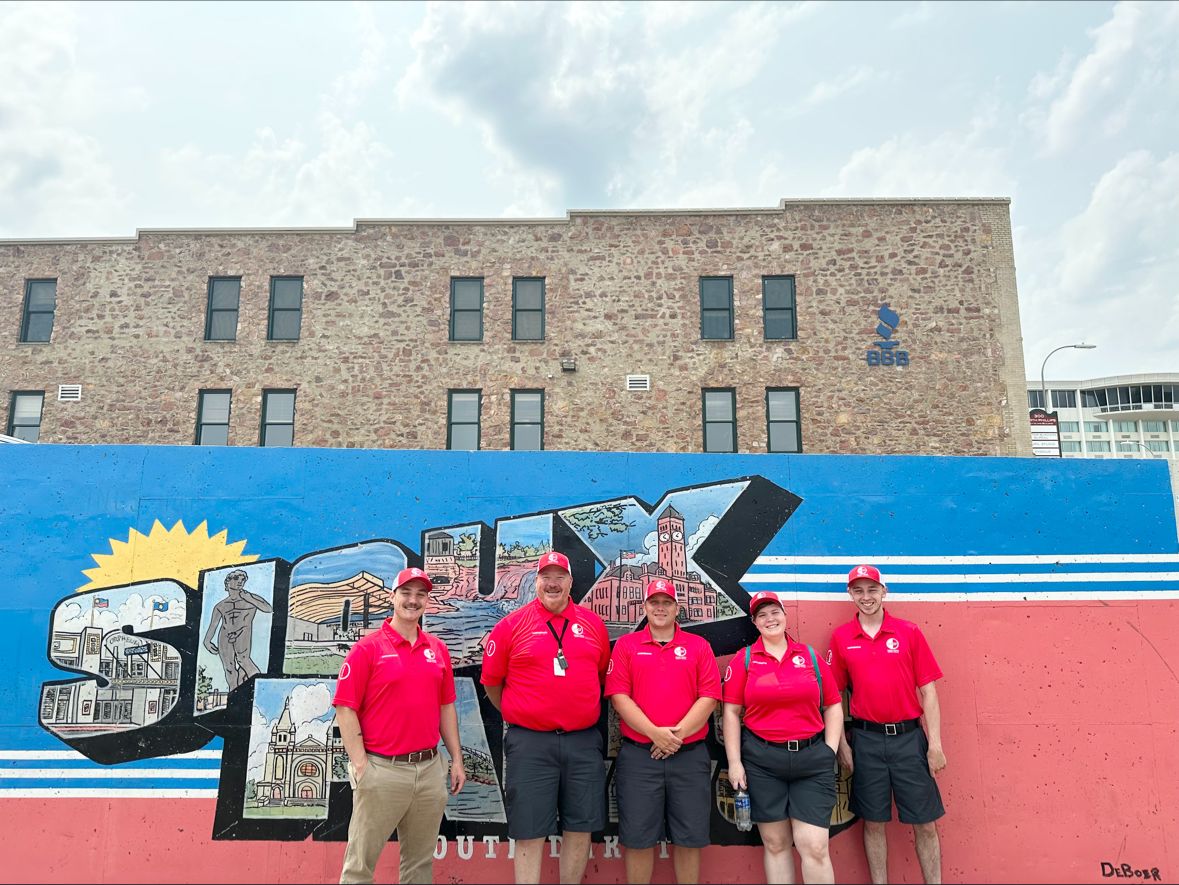 Original article by: Gracie Terrall, Keloland News First
If you're wondering who the people in bright red shirts cleaning up garbage downtown are, they're the new Downtown Sioux Falls Ambassadors and their job is to keep the area clean and safe for everyone.
Since 2021, Martin Dill was the sole ambassador and took care of the downtown upkeep by himself. Recently, DTSF hired six more people to serve as ambassadors of downtown and help with cleanup and safety.
"You'll be going along cleaning up and you can kind of tell when people are looking a little lost, they're staring at the maps or their phones and you go up to them like, 'Hi, can I help you folks with something?' And nine times out of ten they are looking for something and we chat them up a little bit," Dill said.
The ambassadors clean sidewalks, recommend restaurants to newcomers, report suspicious activity, help people in need of assistance and handle the trash and recycling bins.
"People have commented mostly about the cleanliness," Dill said. "I've had a lot of people comment that they've seen the staff. They say, 'We've seen you guys all over the place and it looks really clean. There's no trash or cigarette butts anywhere.' That's fantastic, that means we're doing our job."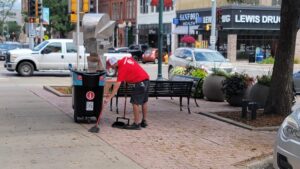 With the additional staff, they are able to reach more areas of downtown than before. They focus on Phillips Avenue and East 8th Street every day and clean adjacent streets like Main and Dakota a few times a week.
Dravyn Alarconsides started working as an ambassador last week and he's already been interacting with business owners and customers.
"I picked up trash and learned how to sweep up the things in the gutter, pick up cigarette butts and say hello to business owners here in town," Alarconsides said. "We have business cards that we actually give people to let them know that we're down here trying to make the downtown area safer for individuals to promote people wanting to have businesses down here."
Apart from keeping the downtown sidewalks clean, safety is a huge part of an ambassador's role. They do patrols on bicycles throughout downtown from Falls Park to the river walk and nearby bike trails four times a day. The ambassadors also assist the police and call in suspicious activity.
Alarconsides said he had to call the non-emergency police number Wednesday morning to request help with an unhoused man threatening people. Alarconsides said the situation was handled swiftly.
Sometimes, Dill found that just talking and having a conversation with unhoused people can help them if they're having a bad day. He said ambassadors help give unhoused people rides to Bishop Dudley Hospitality House or The Link, a community detox center.
"With the unhoused population, just getting an opportunity to chat with people, see how their day is going," Dill said. "Every once in a while, if someone is having a really bad day, they just appreciate the fact that somebody talked to them about it. It's what we're here for."
According to Tenley Schwartz, the marketing director for DTSF, funding for the ambassador expansion came from the Business Improvement District (BID). These are funds that all property owners in the geographical area of downtown pay to maintain property value and safety. DTSF recently updated the BID structure, which hadn't been updated in over 30 years, after seeing the positive outcome of Dill's work as a sole ambassador to allow DTSF to hire more ambassadors.
Schwartz said the program will likely continue into the far future now that they have the funding and are hearing the feedback from downtown businesses and customers.
"The plan is to keep improving the process, keep training these folks to do a really great job when they're representing our city," Schwartz said. "We'd like to see this continue in perpetuity to make sure that downtown stays a place that feels welcoming."