More Than Clean: Building a Workforce from Camden Residents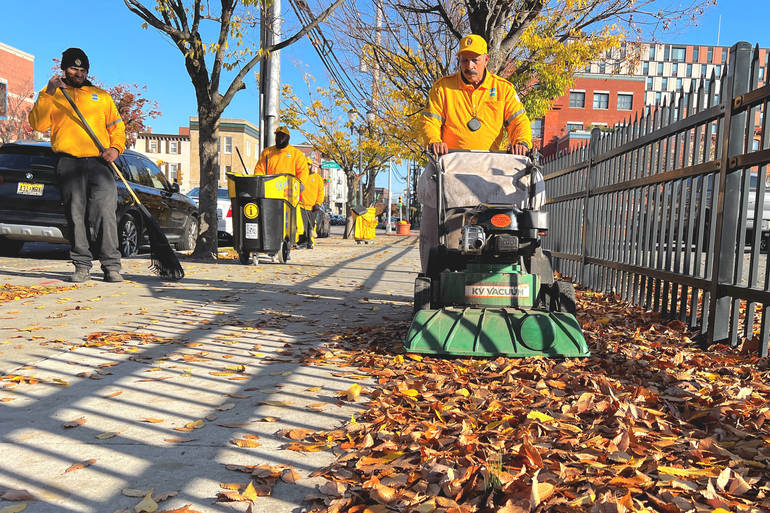 As Streets Are Beautified, Residents Hone Job Skills, Plan for Future
By Niell Borowski for Tap into Camden
CAMDEN, NJ – When Francisco Santana shows up for work, the 6 a.m. darkness cloaks the litter and, at times, the used needles and excrement scattered around Seventh and Benson Streets near Cooper University Hospital.
As other downtown workers begin to arrive two and three hours later, much of the ugliness that greeted Santana is gone, never to be noticed by them.
Santana, 70, who in late October celebrated his 10th anniversary as a member of a brigade that has become known as the "Yellow Jackets," each weekday morning makes sure the urban debris is sitting in his bright yellow trash bucket rather than in public view.
Like other Yellow Jackets who sweep, rake, power wash and landscape the city's Business Improvement District, Santana gets to know residents and businesses on his route and builds a bond.
"They know me, have respect for me," said the Camden resident, who moved here from Puerto Rico in 1966. "They don't throw litter."
Beyond Cleaning: Solid Employment
For residents like Santana, the Clean and Safe Program has given him full-time employment with benefits and, for some employees, career advancement. The program is financed by an assessment paid by businesses and industries in the district as well as larger nonprofits and apartments with five or more units.
Now the city is emulating the program – with resident employment and advancement as a main goal – with its Clean Corridors and Safe Parks Program to clean and maintain parks and business areas that are beyond the coverage of the Yellow Jackets.
While a cleaner and more-inviting city may be what is apparent to the resident, commuter, or visitor, beneath the surface of each program is the push to put city residents into jobs from which they can learn, show off their work ethic and advance economically.
The city announced its two-year program in late September, with temporary employment for 60 people paid by the federal $3.5 million in American Rescue Plan's State and Local Fiscal Recovery Funds.
"The program objective is to create a pipeline to permanent employment, with Camden residents having first priority," according to the city's announcement. Before the temporary employment ends, the city says it will work with government, nonprofit and corporate partners to find the aides permanent employment.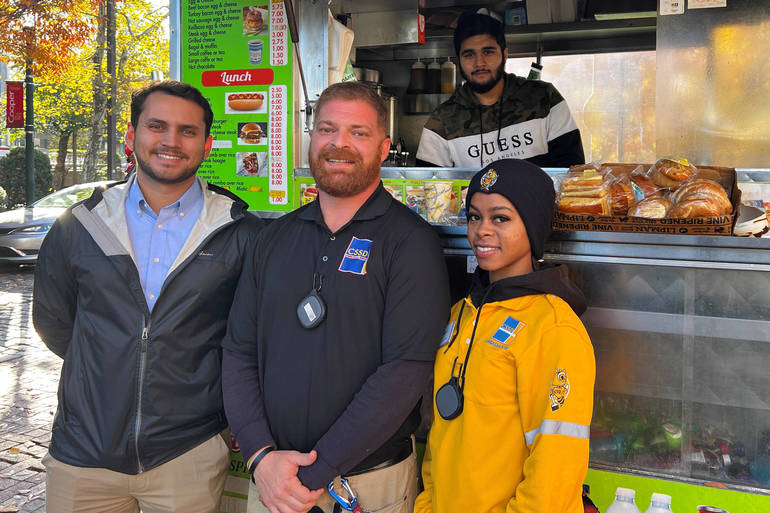 Late last month, about 45 people had been hired with 15 new hires to go, city Public Works Director Keith Walker told TAPinto Camden in an interview. They are paid $17 an hour and work 32 hours a week.
Each Clean Corridors employee will work six months, gaining experience and demonstrating how they work.
"It's like a big interview process," Walker said of the program. "They (potential employers) see these guys work."
Walker recalled in October working on a clean-up near Covanta, the trash incinerator in South Camden. A Covanta supervisor approached Walker and asked if he had any prospects for him from the city workforce. Walker did, and the employee was interviewed by Covanta.
The Public Works Department has three employees retiring this year and, as the staff moves around to fill the vacancies, Walker expects to look to the Clean Corridor group to possibly fill the permanent city jobs.
As the workers may be hoping for future employment, they are beautifying the parks and other parts of the city.
"The area is looking a lot cleaner than what it was," Walker said.
Employment Mobility
Employment by the Yellow Jackets of the Camden Special Services District can be permanent.
Santana, the Yellow Jacket near Cooper Hospital, expects to work three more years before retiring. His cleaning partner, Khliah Best of Camden, has worked about six months for the Yellow Jacket program.
"It's a lot better than I thought it would be," said Best, 23, who at first figured that the position would be temporary before moving to another job.
"I would rather stay here," said the Camden High graduate.
The Special Services District contracts with Block by Block, a company that provides downtown and other city cleaning in more than 100 communities. Block by Block, a subsidiary of Nashville-based SMS Holdings, is the employer of the Yellow Jackets, with the special services district paying a fee for services.
Near Third and Market Streets, Johnny Diaz walked behind one of three of the special services district's "Billy Goats" – a large, wheeled vacuum cleaner that sucks up street litter, but comes into especially heavy use in the autumn to collect leaves into their giant bags.
Diaz, has been a Yellow Jacket for 11 years and the Camden resident soon will move to Florida. But Diaz, 66, is not going into retirement. When he gets to Orlando, he will join the Block by Block program in that city.
The Camden program says it seeks to promote from within.
One Camden Block by Block worker was recruited to fill in for a supervisor in Philadelphia at the city's Sports Complex Special Services District around the stadiums in South Philadelphia. When his temporary spot ended, he returned to Camden and was promoted.
Other Yellow Jackets have moved to permanent positions in City Hall and the Public Works Department.
Those who are current Yellow Jackets are encouraged – and rewarded – to recruit new workers. If they refer a new employee, they are paid a bonus of $200 once the employee has been on the job for 90 days.
Two men working with Diaz near Third and Market Streets were recruited through the bonus program. James Ingalls, who has worked for the program for less than a year, encouraged his cousin, Vernon Ingalls, and friend, Chris Horton, to apply. They were hired and in late October had been on the job for three weeks.
They all laughed about Ingalls' potential "bounty" for bringing them into the Yellow Jackets, asking Ingalls what he would do for them once he collects.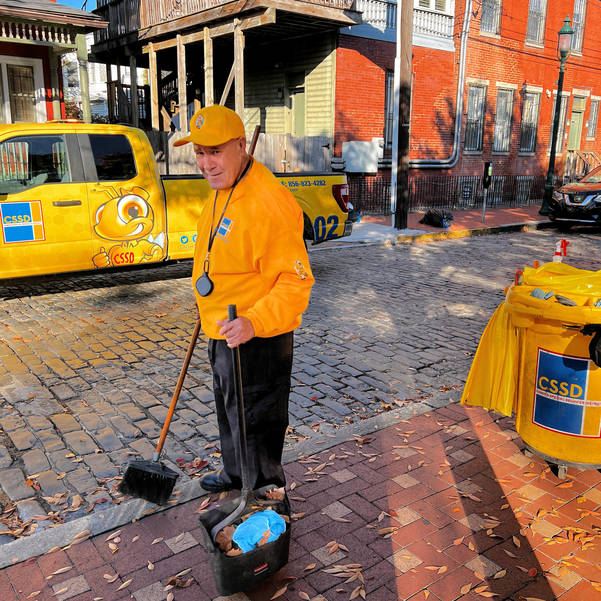 Camden's Own Ambassadors
"Hiring Camden city residents has multiple benefits," explained Nathaniel Echeverria, executive director of the Camden Special Services District. "They know the community. They know the place," Echeverria told TAPinto Camden.
Besides the Yellow Jacket moniker, the district employees are "Ambassadors," whose jobs include greeting visitors and offering advice on where to eat and directions for the lost, said Echeverria, who joined the district in September 2021 after working in economic development and downtown association positions elsewhere.
Thirty-two full-time Yellow Jackets work in downtown Camden, earning $17.50 an hour with benefits, and supervisors such as team leads make $21 an hour. They range in age from 18 to 70 and 27 are men and five are women.
Cleaning is not their only maintenance duty. They plant flowers with the Tree Foundation and others have planted trees in the business district, which goes from the Delaware River to the Cooper River and from Elm to Clinton streets.
The district has the workers sample different restaurants in Camden so, when asked for a recommendation, they can speak from experience.
And, as the holidays approach, the Yellow Jackets will be putting up light displays in parts of the district.