OKC Green Team's mission is to keep downtown clean and safe

Darla Shelden, City Sentinel Senior Reporter
OKLAHOMA CITY– Downtown Oklahoma City Partnership has launched the Green Team, a new clean and safe program for the Downtown Business Improvement District (BID). The Green Team's mission is to "improve the experience of the public spaces for visitors and locals in the downtown area."
The program launched this spring and is administered by Block by Block, the nation's leading provider of safety, cleaning and hospitality services for downtowns and Business Improvement Districts. To learn more, visit blockbyblock.com.
"At Block by Block, we pride ourselves on building teams of people who are passionate about the many services they deliver in our public spaces and even more passionate about the communities they serve," said Derreck Hughes, Vice President of Operations of Block by Block.
"We couldn't be more thrilled to partner with the Downtown Oklahoma City Partnership to make a tangible difference and bring positive outcomes to downtown through the efforts of the Green Team," Hughes added.
The Green Team provides supplemental cleaning and safety services within the six downtown districts of the BID. The program's core services include trash and litter removal, street vacuuming, power washing, sticker and graffiti removal in addition to special event information, business check-ins, and hospitality escorts.
The Green Team members perform services to keep downtown clean, as well as providing a sense of safety for all downtown users with recognizable uniforms and fleet of vehicles to provide a recognizable presence to serve as "eyes on the street" and help deter unwanted activity.
The Green Team approach prioritizes hospitality across all services to maintain downtown Oklahoma City as a friendly and inclusive destination. Downtown stakeholders and the public can directly access the Green Team through a dedicated phone number to request services or report issues at 405-240-1944.
The Green Team program is managed by Downtown Oklahoma City Partnership.
"We've received an overwhelming amount of positive feedback from downtown businesses and property owners regarding the Green Team," said Jane Jenkins, President and CEO of Downtown Oklahoma City Partnership.
"There have been significant efficiencies in response time and visibility with the Green Team and we're looking forward to compiling more data and identifying trends so that we can tailor and expand the program's services as downtown continues to grow," Jenkins added.
In the first two months, the Green Team swept 1,660 blocks of curbline, emptied 1,330 trash bags, and removed 981 instances of graffiti. The team also includes a full-time Homeless Outreach Specialist who manages social service outreach and referrals for people on the streets who are in need of mental or physical health services.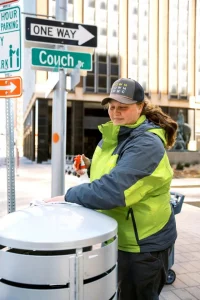 The organization works in partnership with organizations such as Homeless Alliance, Oklahoma City Police Department's Homeless Outreach Team, and the City of OKC.
According to the press release, the Green Team Homeless Outreach Specialist will focus on building relationships and collecting data to better understand and serve the population of individuals experiencing homelessness in downtown.
The Green Team service area covers over 1.5 square miles of the Downtown Business Improvement District and includes Automobile Alley, Bricktown, City Center, Deep Deuce, Midtown, and West Village. For services, contact the Green Team at 405-240-1944.
More information about the Green Team and the Downtown OKC Business Improvement District can be found online by visiting DowntownOKC.com.