Service with a smile: Meet the people keeping downtown safe and beautiful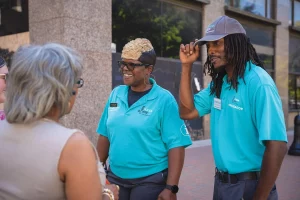 When Dominque Wilson saw a business owner shoveling snow in front of her storefront, he immediately offered to help. While at first she demurred, Wilson insisted, telling her, "This is our job." 
Wilson is one of 13 Downtown Ambassadors through the Downtown Tulsa Partnership, a local nonprofit on a mission to champion a prosperous, vibrant and inclusive downtown Tulsa. The Ambassador program specifically focuses on providing hospitable services like giving directions, serving as safety escorts and being an intermediary between unsheltered Tulsans and downtown businesses. In the last year, ambassadors have interacted with more than 5,000 people.
Ambassadors also provide trash and graffiti removal, pressure washing of sidewalks and general beautification projects.
"We do the work that honestly a lot of people don't want to do," says Leola Maxey, Ambassador team operations manager. "I'm so proud of the dedication (the ambassadors) show when they come ready and willing to work, no matter the weather."
Since the Ambassador program first launched July 1, 2021, the team has removed more than 7,400 graffiti tags and stickers and picked up more than 300,000 pounds of trash from sidewalks, streets and alleyways — the equivalent weight of a Boeing 787 Dreamliner. They also provided the critical service of removing 1,200 potentially biohazardous materials from downtown rights of way, in addition to various other hospitality services. 
"There's a lot for us to celebrate in our first year, but the work is ongoing," says Brian Kurtz, president and CEO of the Downtown Tulsa Partnership. "What we do with our brand means nothing without the visibility and hospitality of this team."
For more information about the ambassadors or to request assistance, call 918-202-4093 or visit downtowntulsa.com.
Originally posted by TulsaPeople.