What it's like to work for Operation Downtown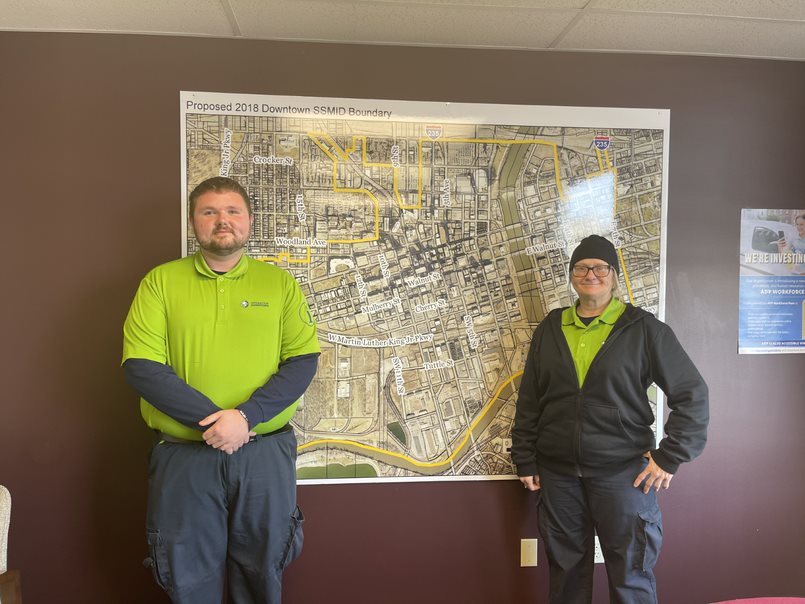 Written by: Greater Des Moines Partnership
DES MOINES – Maybe you've noticed in Downtown Des Moines (DSM) those helpful workers in lime green polo shirts, working to keep downtown safe, clean and beautiful. If not, you've surely noticed the beautiful flowers lining downtown streets, the sidewalk maintenance and supportive service to hose around the city. These workers are our Operation Downtown Ambassadors, and they play a pivotal role in maintaining downtown, both in normal times and during busy (say, Saturdays throughout the summer from 7 a.m. until Noon!) or difficult times, like the past 23 months since the COVID-19 pandemic emerged.
Two of those ambassadors recently shared about their experiences as Operation Downtown Ambassadors. Julie Skalberg and Sean Harrington have worked for Operation Downtown for four years and one-and-a-half years, respectively, and have a lot to say about downtown.
Operation Downtown Ambassador Q+A
How did you first learn about Operation Downtown Ambassadors?
Skalberg found the job on Indeed when she moved to Des Moines. While visiting her brother, she saw some people in the Historic East Village working with Operation Downtown. When she moved to the area, she thought she might like to do that, too, and help give back to the community. She loves that the job is outside. For Harrington, who had led a troubled life prior to his work with Operation Downtown, took the job to help change his life. Since he became employed, he has become part of the Operation Downtown family. Both say the biggest draw is the tight-knit group at the organization. Skalberg said she loves coming to work because of the appreciation felt from the top down.
What does a normal day look like for you?
Harrington said that each day is different. Every morning you get assigned with a task and a zone to work in. From power washing in front of businesses to taking care of the skywalks, there are many ways they help the Downtown DSM community stay safe and beautiful. Skalberg said that what's fulfilling is that Operation Downtown employees also assist visitors with directions, taking photos for families and friends where they are downtown and just helping in any way they can. People take the time to thank employees and they can feel they are making a difference to downtown.
What is your favorite part of downtown?
Harrington's favorite things about downtown are the Downtown Farmers' Market and other festivals. Skalberg said that everything downtown is unique — especially the new skatepark — and she loves being a part of all of it. When COVID hit, she said the heartbeat of the city left, and seeing that come back recently has been great.
Share a favorite ambassador memory.
Harrington recalled a lady who had come downtown and forgotten where she had parked. Operation Downtown had multiple employees looking for the car to assist her. Skalberg said there are so many fun times, but remembered one Saturday at the Market — Harrington's first event — laughing about the busyness of all the things happening in one day. They stick together and get through the busyness with laughter.
What would you say to someone who is interested in becoming an ambassador?
Skalberg said there's no reason not to become involved with Operation Downtown. You get to interact with the public, and that's a lot of fun! Harrington said you walk 10-15 miles a day, and Skalberg said even so you do it with a fun group, which makes it easy to be out there. He said he gives potential employees a rundown of the great environment, number of hours, his understanding boss and how much he's grown since he came on board at Operation Downtown.
Find more information on Operation Downtown here.