Growth From Within
Company Culture of Leadership Development and Identification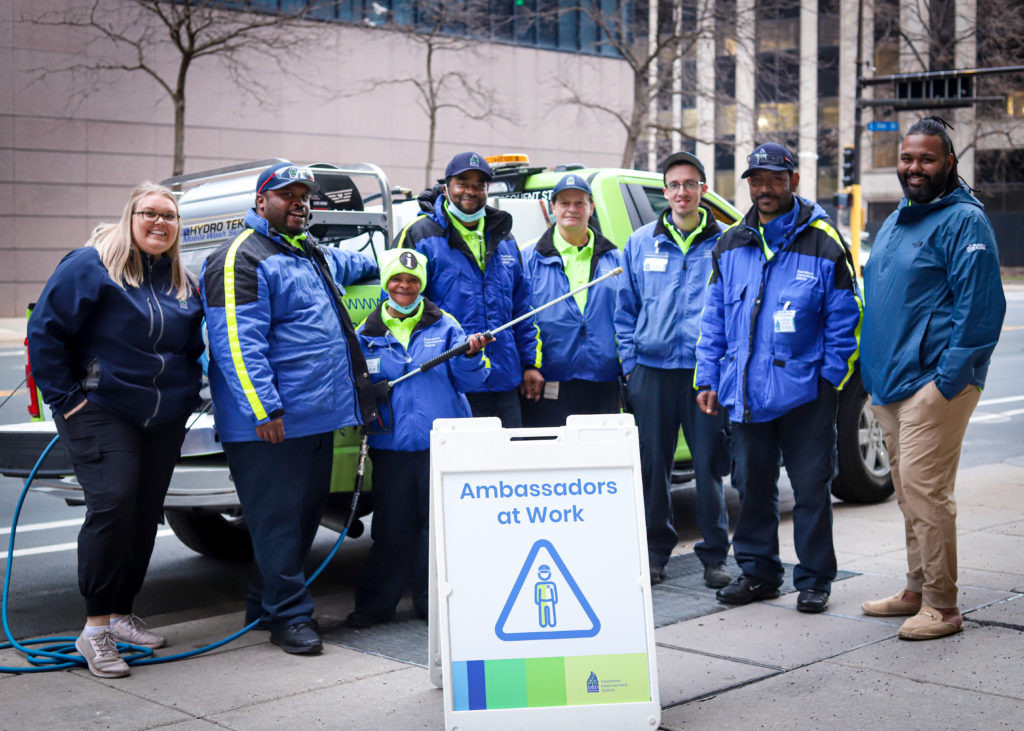 "I want for us to be more than just a job. I want our company to provide a career path for people so they can do better for themselves," shared Blair McBride, Block by Block (BBB) president.
Throughout the past few decades, Block by Block has evolved into the nation's leading downtown hospitality and cleaning service provider. As the business expanded, Blair made it a priority to invest in the company's employees. Block by Block strived to provide training and advancement opportunities, putting employees at the heart of all operations.
"We don't want people to leave for better opportunities. We want better opportunities to be here," Blair said.
Blair started as a parking lot attendant with Block by Block's predecessor company Brantley Services and worked his way through various Ambassador roles, followed by other positions on the corporate scale before becoming the president of Block by Block in 2014. When first hired, Blair never intended to stay longer than three weeks, but a great supervisor and the enjoyment from his work kept him around for over 28 years.
"Culture is what keeps people around. It's at the root of who we are," he added.
Blair's story isn't unique to Block by Block. The company sustains many employees who remain for the vast opportunities. Derrek Hughes, Vice President of Operations, shares many similar experiences with Blair. He also started his career at the company when it was known as Brantley Security. Beyond the fulfillment of helping communities and people, he appreciates the variety found in his role.
"If you are going to spend a magnificent time doing something, you need to find value in what you do and have it be impactful," Derrek expressed.
To continuously expand meaningful job opportunities for employees of Block by Block, Blair and Derrek allocated resources to develop the Leadership Identification Program (LID) and the Leadership Development Program. By providing training and advancement opportunities, the company invests in its employees and cultivates a positive culture, encouraging growth and development.
The Leadership Identification Program ensures that Block by Block promotes individuals who know and trust the company's systems, ultimately contributing to its success and fulfilling the needs of the downtown communities. Currently, there are 200 employees taking advantage of the LID program, eleven from the Minneapolis Downtown Improvement District.
"I want more people within our company who are promotable and ready to go to the next level because I don't want to hire somebody off the street," Blair said. "I would really rather promote someone we already know and trust and have them rise through the ranks. Honestly, I'm looking for the new me."
Anna, Regional Vice President of the Great Plains Region, which includes Minnesota, also paved her way in the company. After completing her Master's Degree, Anna applied for the Training and Development Coordinator position in Downtown Minneapolis where she was thrilled to employ her love for teaching and training. Twelve years later, she is just as passionate about her job as today.
"We have so much opportunity to change people's experience in the public space," she shared.
The Block by Block operation in Downtown Minneapolis is comprised of various staff who took on new growth opportunities. Pam, Office Administrator, started as an MDID Cleaning Ambassador. She also supported the Livability Ambassadors when they needed more hands on deck. Pam applied her strength to fill a payroll opening and took over other administrative tasks.
"I love working with numbers. It keeps me focused," Pam added.
Victoria, another Minneapolis staff member, also found a way to use her knowledge and expertise in a new position she took on a year ago. Initially hired as a supervisor for a university campus account, management quickly promoted her to Dispatch Manager.
"I was looking for a place where I could create a more important impact in the community," Victoria shared why she was first attracted to work at Block by Block.
She now oversees the MDID Dispatch Team and collaborates closely with the Minneapolis Police Department and other security networks in Downtown Minneapolis. Proud of the diversity in the company, Victoria is passionate about serving the downtown community, reflective of its needs.