Meet the Louisville ambassadors rejuvenating downtown area

Dressed in bright orange, they're the eyes and ears across 90 square blocks of downtown Louisville, working to make it safer and cleaner.
LOUISVILLE, Ky. — Mayor Craig Greenberg has called for more ambassadors on the streets of Louisville to assist police in their patrols, to be an extra set of eyes and ears for locals and visitors alike as the Kentucky Derby approaches.
"Our presence being here helps make it safe," Charles Coleman said.
Coleman has been a Louisville Downtown Partnership ambassador for two years. He's one of 19 selfless men and women working around the clock across 90 square blocks of the downtown area.
"Whether it's raining, whether it's cold, whether it's nighttime — you know there is always someone out there walking and keeping an eye out for you," said James Wells, Block by Block's general manager for Louisville operations. Block by Block contracts out the ambassadors.
Since the protests of 2020, the resurgence of downtown has been a slow climb — albeit not for a lack of effort from businesses. Several have come and gone within just a couple of years.
Wells says the ambassadors are part of the blueprint for revitalization.
"We've done everything within the last year, from interacting with people to helping deescalate situations to providing a friendly face, or a friendly presence around a chaotic situation," he said.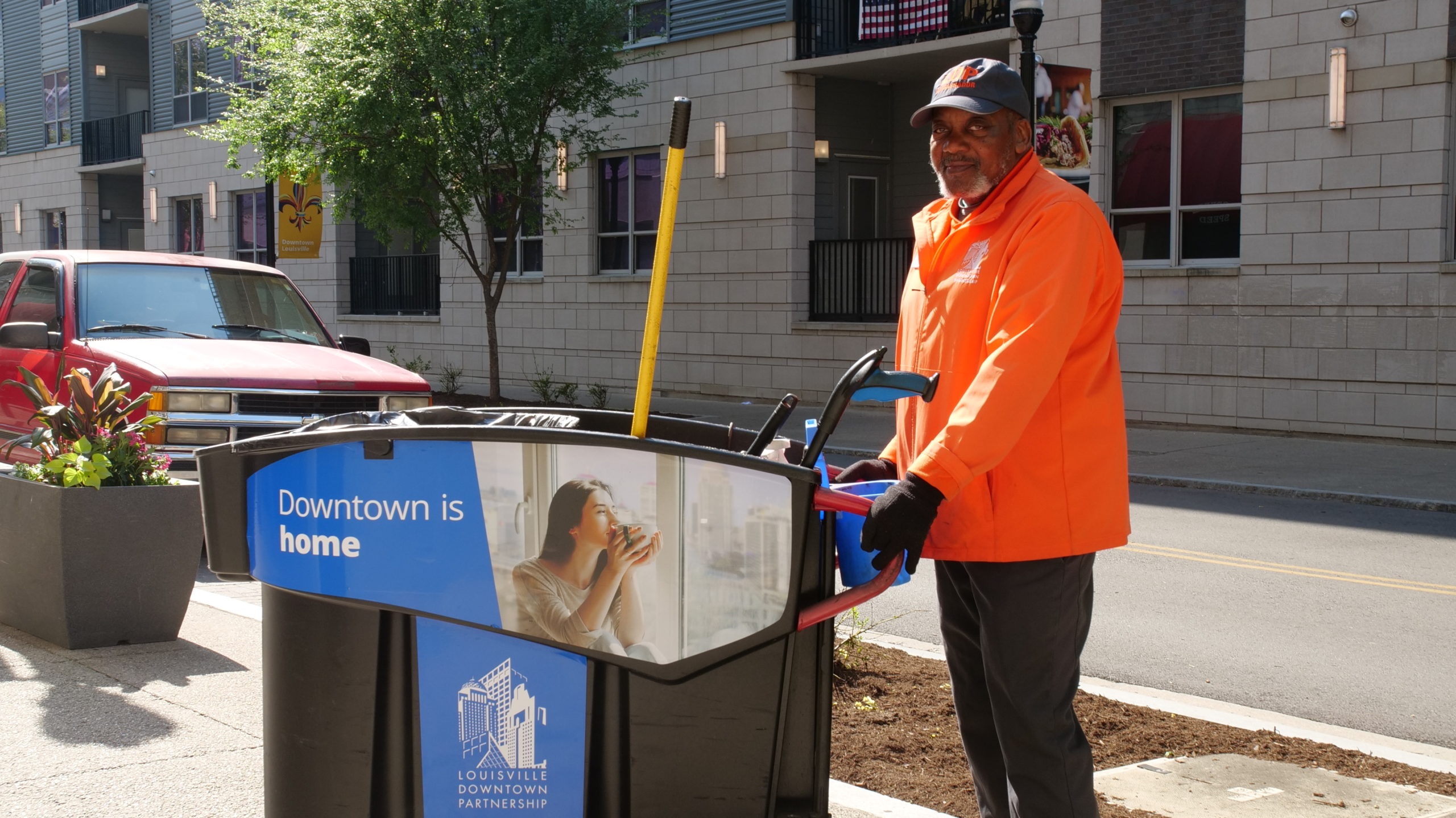 LDP ambassadors patrol the streets from 7 a.m. to 10 p.m. seven days a week. Some travel by foot, others by bike. Many of them have maps on hand.
On Wednesday, WHAS11 followed along as they went about their daily process — which includes removing graffiti, cleaning up trash, power washing sidewalks, putting up street decorations, and of course interacting with the community at the return of Food Truck Wednesdays this season.
"We try to keep it fun and keep everyone in a good mood. They're doing something that some people would never want to do, but they enjoy doing it," Operations Manager Brandon Person said.
And for people like Coleman, the satisfaction comes from seeing familiar faces return to the area — not just for Derby or conventions, but for a regular Wednesday in April to take in the sights and sounds.
"Every day and week and month that goes by, more people are coming back to the downtown area," Coleman said. "You can't spell Louisville without spelling love."
The LDP Ambassadors program has been around since 1996, and it's grown. The 2020 team had 13 ambassadors on staff. Right now, they have 19.