Japantown CBD
San Francisco, California
Our Community Ambassadors / Clean Team have an important role in our community to create a healthy environment for visitors as well as those who live and work in Japantown. Maintaining clean and safe streets, welcoming visitors and locals, checking in on businesses are all essential for a thriving neighborhood.
Contact our Clean Team Hotline for safety and cleaning needs (sidewalk sweeping, hot spot pressure washing, graffiti removal & car break-in glass removal), within the boundaries of the service district, 7 days a week from:
Call: 415.680-7171 or email: japantowncbd@gmail.com
Scope of Clean Team Services:
• Manual Removal of Litter And Debris
• Weed Control
• Mechanical Cleaning
• Handbill Removal
• Graffiti Removal
Scope of Community Ambassador Services:
• Walking patrol
• Checking in with businesses / Information Sharing
• Hospitality Services
Clean Team Hours of Operation: (schedule may vary based on need)
Monday – Sunday 7:00 a.m. – 4:00 p.m.
The services of our Clean Team / Community Ambassadors is 100% funded by the Japantown Community Benefit District property owners. The JCBD produces monthly report on these important services.

View BID Website
Services: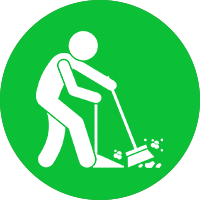 cleaning
Number of Blocks 7 - Serving Since: 2018